Ghost of Harlem purchases
If you follow me on twitter you surely know it already, but I waited so long to make a proper post about my last online purchases because when I received the parcel I had just done a haul post XD and also this time all things were summery so they didn't belong in a spring haul post ahah, I decided to buy three new summer dresses (one was a present from my boyfriend *u*) because every year is always the same story: few dresses to wash almost every day = half of your dresses will be ruined at the end of summer,

every year I have less and less summer dresses and it's always a headache so I decided to advance the summer and buy some new dresses, luckily Ghost of Harlem has a sale section all year so I took some brand new dresses for very good prices!
All the dresses are now out of stock so I cannot provide you a link, but you can find a lot of gorgeous dresses in their website, I love this brand so much, it's perfect for daily outfits and a more mature rokku gyaru look!I decided to take two grey dresses, I'm a bit afraid to wear white during summer because my skin is so light I don't want to look like a ghost so it was a nice change from the usual black!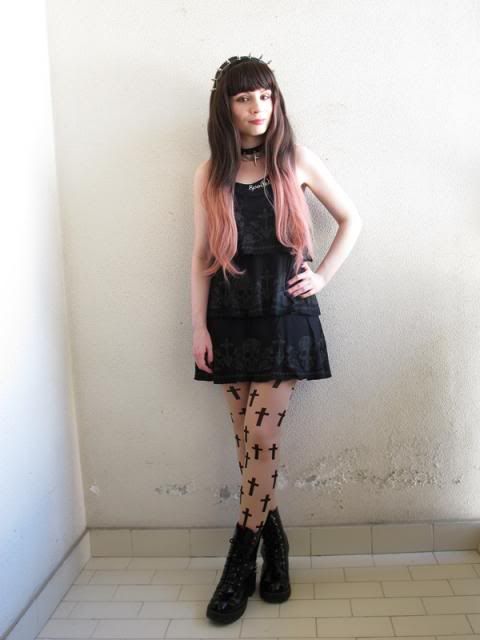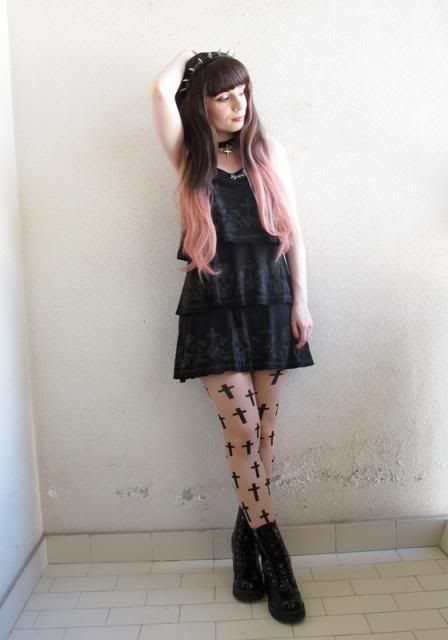 Headband
Spinns – Dress, chocker Ghost of Harlem – Tights taobao – Boots Jeffrey Campbell
I wore firstly the black one because I really love the shape! The print is not grey as it looks in the pictures but army green, I tried to make another picture to show it because in my outfit picture you can't see it really well!
How do you deal with summer? I always try to wear really cozy and light dresses, in Italy summer is like hell XD