Two ootd and new Facebook page!
Happy Easter dear readers!
How do you spent your holidays? I started to study again for my summer exams, the next one will be comparative literature (the theme was the travel, it's really fascinating!), finished playing Pokemon white II, went out with my friends and my boyfriend and I also received some beautiful Easter gifts, but I will talk about material things in the next post ahahah!
I went out with Sarah, Arsenio and my boyfriend some days ago, we went to a really cute local mall and I also found two things I have been searching for so long, I was really happy! There were a lot of cute things but I couldn't spend a lot because the next week I will make a little travel to Modena for a convention! I finally coordinated my galaxy skirt bought in Japan in a good way, not the usual total black outfit I always see on lookbook but I also added white and nude with tattoo tights!
Jacket
Zuiki – T-shirt Ghost of Harlem – Skirt M2 – Tights Harajuku – Bag Algonquins – Boots Jeffrey Campbell
The look was really simple for my standard, but all the people looked at me…maybe I have a strange face XD? It's kinda strange because I found this outfit really normal….I also used a more simple fake leather jacket, this one hasn't spikes and has the korean collar, I really like havomg different models of similar jackets XD I'm a bit addicted.

I spent most of the following days shopping for new clothes and shoes for my boyfriend (strange? Ahah), I also sold a lot of things that I never used, went to the post office so many times but finally I ordered with the money I gained a big hair extension set *_* I can't wait to have it in my hands and I hope it will match my hair color, I will make a review when it'll arrive and maybe a wip about the gradient I would like to do! Then…I felt sick XD so I couldn't make outfits pictures for most of the week, but Saturday I decided to dress up because my mood was really bad because I have been waiting for an EMS for more than two weeks

T_T

, I also recovered my old black metal t-shirts so why not make an outfit with one of them? Perfect for the day before Easter 8°D
Headband
Spinns – T-shirt don't remember – Skirt Glavil – Socks Taobao – Boots Jeffrey Campbell
The Easter day was really busy, firstly I went for lunch with my mother's family to my aunt's house, then I visited all my father's family in the afternoon, I spent the rest of the evening dying on the sofa with my boyfriend watching American Masterchef, lol! I ate a LOT as you can imagine XD sometimes I feel like I must eat like a normal girl….(and I didn't made a picture of all I ate XD I was a bit shameful)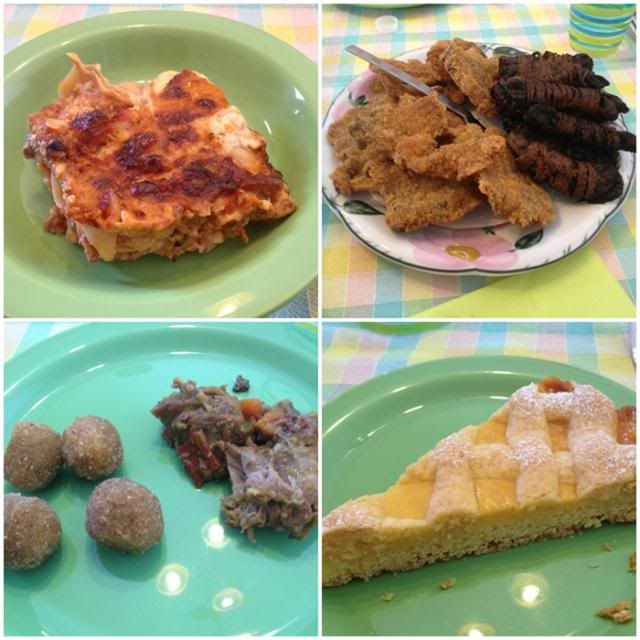 Lastly I would like to share the last tutorial of our Facebook page made by Grazia about the yukata's dressing and how to coordinate it in a special and unusual way perfect for an harajuku fashion walk! I hope you like it and as usual let me know what you think!
Tomorrow we will record a new tutorial with Chiara and plan the next ones, I will make soon a tutorial in my room, I'm really excited ahahah I hope everything will go well!

I saw a lot of bloggers made a Fb page to rest in touch with their followers (because I also noticed nobody uses bloglovin XD) so I decided to make one too before the google reader will disappear! I will share in it my new blog posts but also preview outfits, cosplays and a lot of things I usually don't share here, as usual I really appreciate your support, it means so much for me
♥ there are bad periods in everyone's life but your sweet comments and support made me really happy, thank you very much!
Vanilla Syndrome