I was so busy with the convention and the giveaway in the past days that I totally forgot to share my last outfits and daily life! Let's start with a day before the convention, I went for lunch to Grazia's house to record a new tutorial for the FB page, this time the protagonist was Chiara who is fond of visual kei music and make up.
Headband
Lockshop – Cardigan, sweater Super Lovers – Leggings Missguided – Shoes Studio Alta
My outfit was really simple because I spent the morning at university so I needed to stay cozy XD!
Here's the tutorial! I hope you like it *v*
Chiara is amazing in visual kei, I really like the make- up and outfit! I envy girls who are so versatile because I know I will look really bad with a boy style XD!

After the convention I needed some days to recover energy after the food poisoning but luckily I finally received all the parcels I was waiting, finally I have some new clothes and accessories for spring yay! The weather is almost a bit too cold I don't understand why (in Italy the warm weather usually starts to the end of March), I hope the real spring will come soon, I'm really tired of winter XD. The first day I felt better and the weather was ok I decided to dress up in pastel colors after a long time, I have a lot of outfits in my mind I hope the weather will become warmer to be able wear them! Jacket, tights and bag are new, I will show a new haul post very soon!
Same pose but with a little smile XD *derp derp
Jacket
Candy Stripper – Shirt Ghost of Harlem – Necklace Monomania - Skirt Listen Flavor – Tights taobao – Boots Dr Martens
I really like Candy stripper style, especially the Amo's outfits but I always try to combine a certain fashion with my own taste/style because I don't like outfits without personality, I hope I did a good job because I don't want to look like a bad copy of Amo ahah XD!

Saturday I went out with Chiara, unluckily Grazia wasn't with us, we walked a lot around Pescara, visited a lot of different shops and found a lot of amazing things, sadly I needed to pay an invoice with the birthday's present for my dear friends and my summer dresses so I couldn't buy anything T_T but when I'll have enough money I want to get a skirt from Bershka (Chiara took it and it was fabulous!).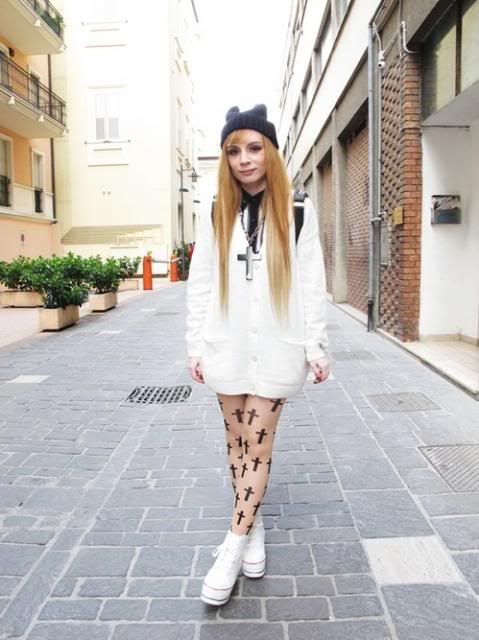 Hat, tights, shoes
taobao – Blouse, Necklace Glavil – Cardigan H&M
My outfit of the day, it was really simple but I liked it anyway! My fringe now is too short for an accident XD (not my fault ahah) I hope it'll grow a lot this month, I cannot see me well with a fringe like this XD! I also don't know why my hair looked so orange and dark in picture when they're blonde…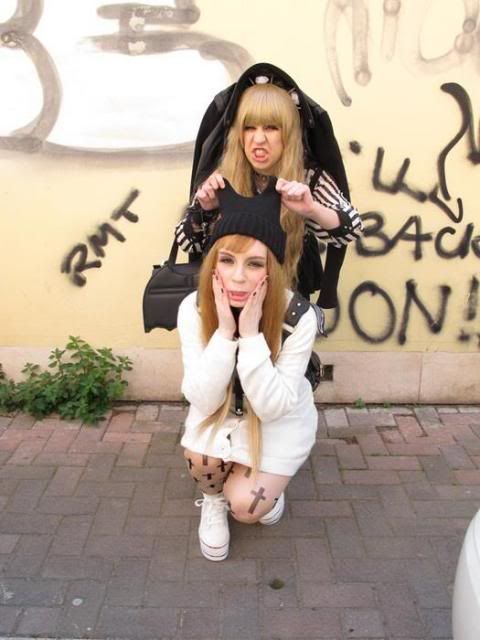 Silly picture with Chiara
That's all for now! Tomorrow I will lunch at Grazia's house again and then work on my little tutorial, I'm so nervous about it, I hope I don't seem too derp ahahah!