I shared a lot of event posts in the past days, but I totally forgot to mention what I did in my free time XD oh well…I totally relaxed ahahah when I don't need to study or organize events I really love to spend my time at home with my boyfriends and my cats, cooking, watching anime and tv cooking programs (like Master chef or Hell's kitchen) or fashion programs like American next top model. I also had time to finally finish the last Pokemon game (White II) and experiment a lot of new recipes!
The women's day I received by my boyfriend the usual mimosa, I don't know if in the other countries there is the same tradition, and it was also so sweet to remember the White Day and he made for me a cake with coconut and cream, it was so yummy!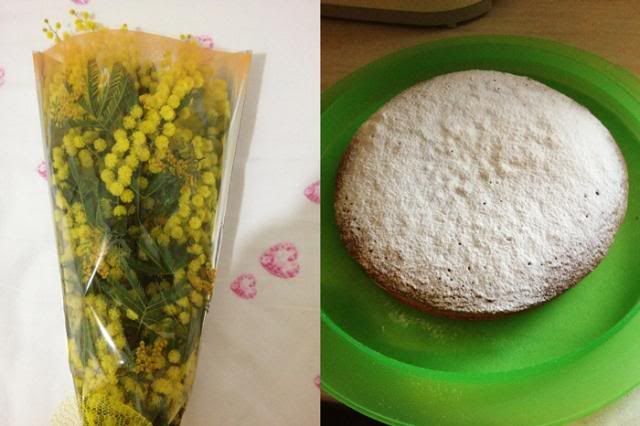 I also went out with my friends Sarah and her boyfriend Arsenio after loooooong time, we went to a lovely tea room, we ordered a lot of sweets and the tea was so damn delicious! There were Japanese, Chinese, Indian teas and many more, it was the first time I saw so many qualities of teas! I took a tea called "Moon spring" and it was so yummy ( I took also a big strudel's piece).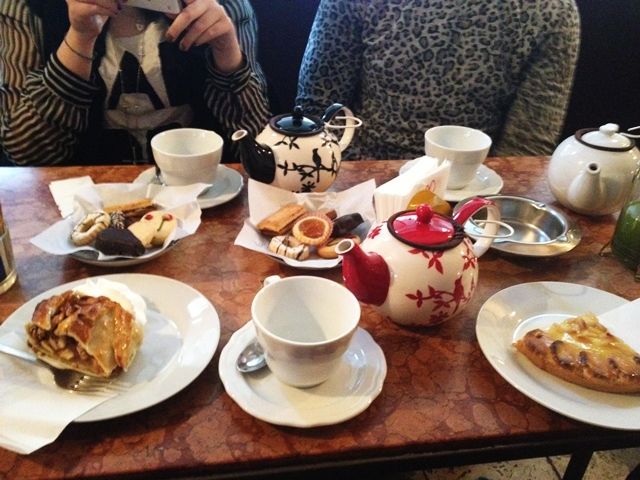 Our table totally invaded!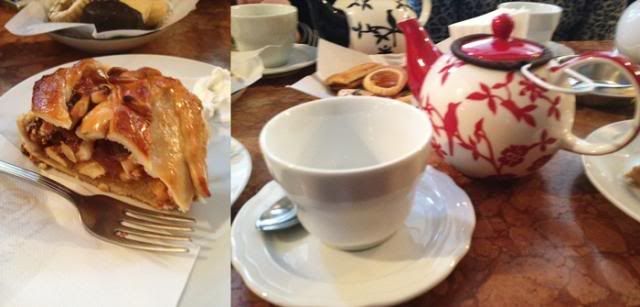 I always forget to make an outfit picture of all this little meetings, but I wore a lot my glavil red parka with my super lovers new sweater so I made a lot of different outfits with these two items, yesterday I decided to make a picture of it to show you, and also I took the occasion to show you my current hair color, finally after one year of bleaching I'm blonde! Now I only need some good extensions, I had to cut around 20 cm of my hair because the old black didn't want to go away.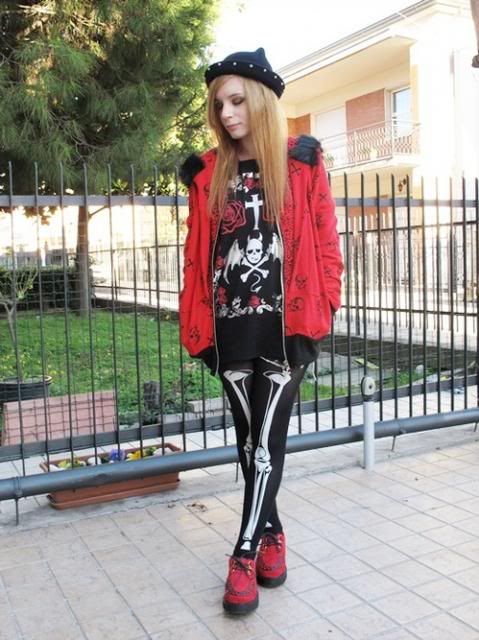 Hat
M2 – Parka Glavil – Sweater Super Lovers – Tights Ebay – Shoes Sango
I also wore the shorts under the sweater, but you can't see them XD I think people thought I forgot my pants ahahah! I also went out with my friend Giada ( I will see her again in few days *v*), we took a hot tea because the weather was still cold, but finally the spring is coming! We made a picture with our bags, yay sort of twin bag from the same collection, same color but different model XD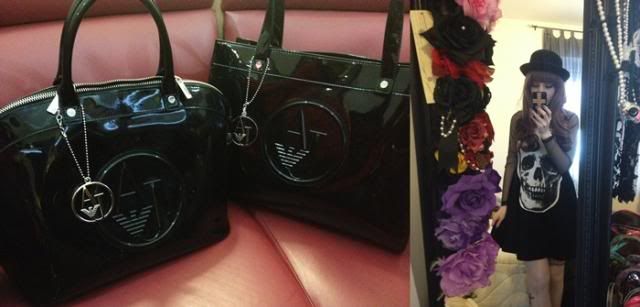 I made the second picture the past Saturday and you already saw the outfit, but I really like all the roses over the Grazia's mirror so I wanted to share this also here!

I also went out for dinner with my dad after a long time, and it was so damn delicious, this restaurant is absolutely one of my favorites!
I know I made a little and fast summary of my weeks, I hope I didn't annoy you XD! I wanted to take the chance to say a big bad new (if you didn't know it already), but on July the google reader will disappear T_T I'm really sad about it because I will lost all blogs I follow, but you can save all of them with bloglovin ( I red there is a function to export all of your blogs), I always hope the Google team will change their mind, but for safety if you don't want to lose my future posts follow me also on bloglovin, I added the button in my side bar! Thank you very much as usual for your support!