The past Saturday I went out with my friends Chiara, Grazia and Alessia. Firstly we checked Oviesse (an Italian store) 'cause Grazia wanted to buy a bicker jacket . We also made some stupid random pictures there because they had a super amazing big mirror near the dressing rooms, I would rally like such a big mirror like that in my room ToT!
( I took the second picture from Chiara's tumblr!)
My outfit of the day, I wanted to wear something pastel in this period, maybe it's the sadness for this eternal winter ahah! Why spring is always so short D:? It's the perfect season to dress up! Thanks to the strange late afternoon light it seemes I had dark circle XD I hate taking pictures when light is disappearing!
Cardigan
Lipstar – Accessories Kreepsville – Sweater Black peace now – Skirt h&m – Tights Ebay – Boots Dr Martens
Then we went to our usual comics shop to greet our friends and to exchange some new items that arrived ( we made two different collective orders, one arrived to Grazia and one to me), it's always so nice to open new things and talke about what we liked! I have the new haul post ready, stay tuned in the next days!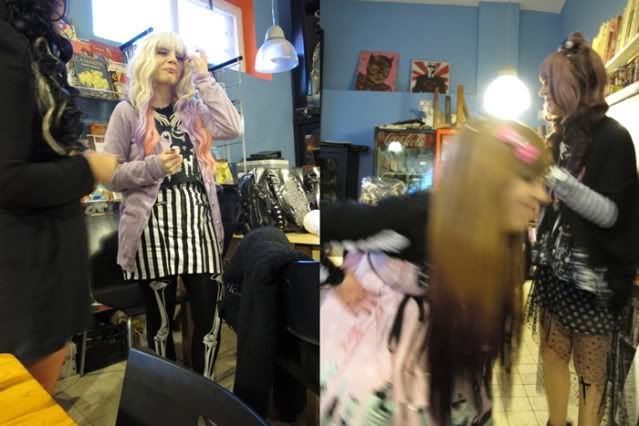 Stupid pictures are always the best, I don't know what I was doing ahah. Thanks to my boyfriend who made this perfect picture of us!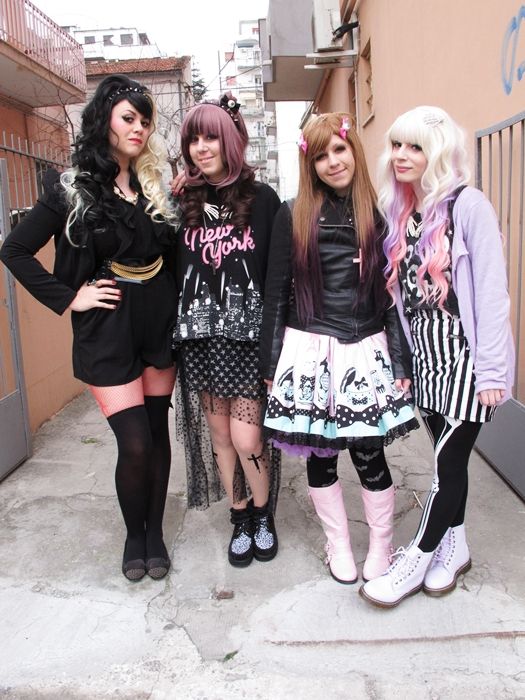 Serious group picture this time
Then we went to our usual favorite bar to take something to drink (or to eat ahah). I'm so envious of the normal people who can eat hot chocolate, but with my terrible lactose intolerance I can only look at them drooling!
I'm also working on two lenses reviews! I hope to post them here soon *w*