I hadn't any special event in the past days, I spent the time studying hard for my incoming exams and sometimes I went out with my boyfriend, I also had some health problems like every winter but nothing really heavy, I hope you understand my lack of news ahah! I try to be happy thinking about next months, there will be two new conventions in spring and also the new fashion walk is confirmed for March yay!
Beret
h&m – Sweater Black peace now – Cardigan Lipstar – Skirt Angelic Pretty – Tights random store in Harajuku – Boots Dr Martens
I really like the combo lilac x black, it's really soft, and lilac is my favorite pastel color! Unluckily I broke this tattoo tights T_T they're so fragile that sometimes I really hate them! One of my dream items has arrived in the past days, Nyanpire Kigurumi! I wanted it for so long, it was an early Valentine present from my boyfriend, I'm so happy *_* it's soooo warm and perfect in every details, it also has the tail and two little wings ahah!
This is the most recent outfit, I really like wearing creepy cute style in this period: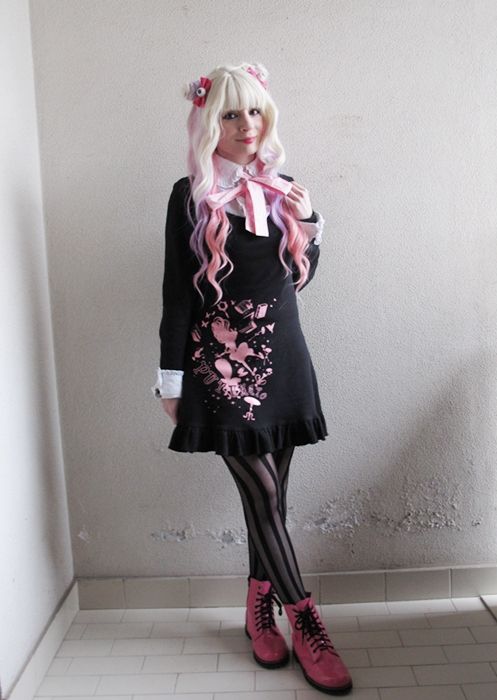 Hair ribbons
Kreepsville – Dress Putumayo – Tights Tally Weijil – Boots Bodyline
I bought this dress a long time ago and I still love it! It's really warm and cozy, perfect for winter time! The print is about Alice as most of Putumayo's prints ahah! Sometimes I think about the success of the Alice theme in lolita, there are so many other beautiful fairytales that I don't really get it XD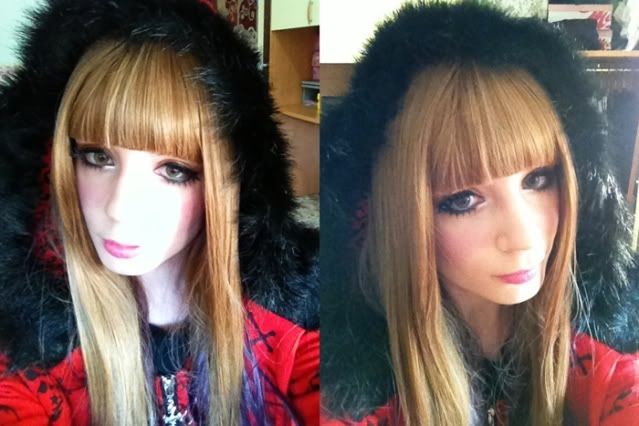 Today I feel sick but I don't want to stay home in my bed
like a zombie

, so I will go buying some new make up things and then study at home with my boyfriend. Do you have any special events in winter? Sometimes I feel like an hikikomori ahahah