Ootd + Christmas presents
Saturday my dear friends Grazia and Chiara gave me new items from their travel to Japan! They bought for me this new red sweater from Glavil and they also gave me as a Christmas present this black Glavil skirt, I have the best friends in the world T_T I wanted this skirt so bad, it's so cute and comfy that I have to take it also in red ahah! This is my yesterday's outfit:
Sweater, Skirt, Necklace Glavil – Shoes Jeffrey Campbell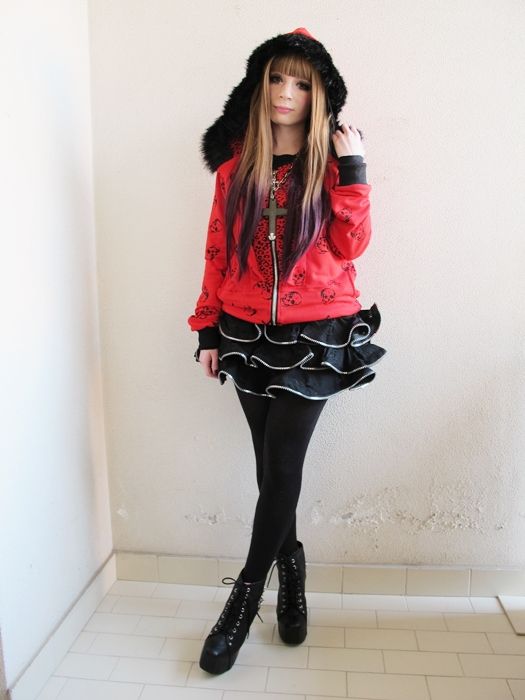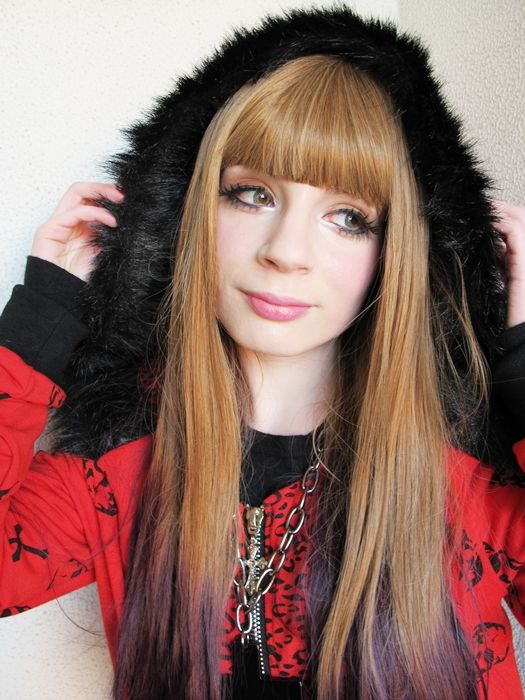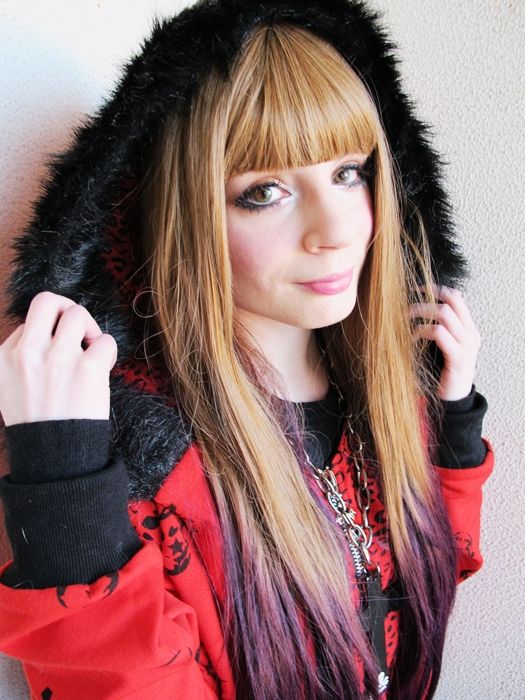 Sorry for the picture spam, it's one of the few times I like more than one picture ahah! This is also the first time I decided to make a shoot of one of my gyaru make ups, sometimes I tried it but I don't know... I feel like it's too heavy for me, I need to try a more natural version of it! And it was the first time I didn't cry because of a circle lenses pair ahah. I tried three different pairs included the one in the pictures, the first two were so heavy that my eyes ached for days….but this new pair is really comfy! I'll try to use them a lot and I hope my super sensitive eyes will be ok XD (for someone who asked me they're GEO tricolor in green).
As I wrote previously Saturday I saw my dear friends after a long time! We went to our favorite bar, swapped our Christmas presents and talked a lot about their Japan travel, I'm always so happy to listen the travel experience!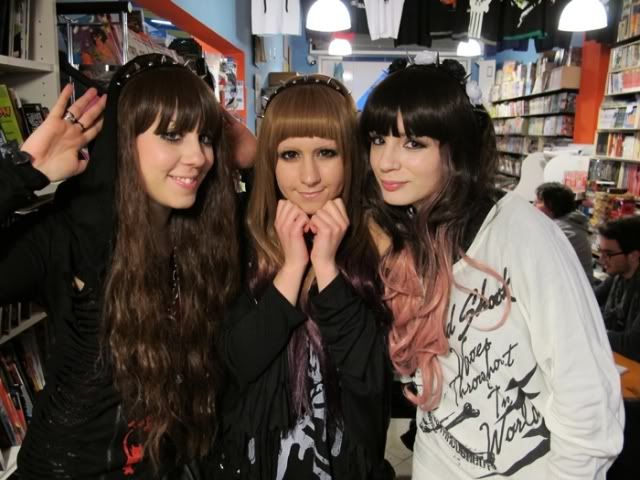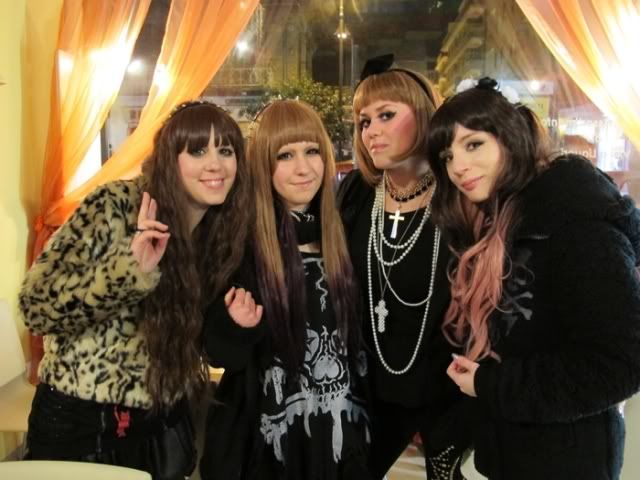 I forgot to make an outfit picture, but it was really simple so I don't mind XD! Then we went to a restaurant but it was so damn full, there were a lot of problems with the dinner but luckily near of it there was a chinese restaurant so we decided to go to it! The food was really yummy and I ate a lot XD it was a bad idea 'cause the previous days I feel bad with my intestine ahah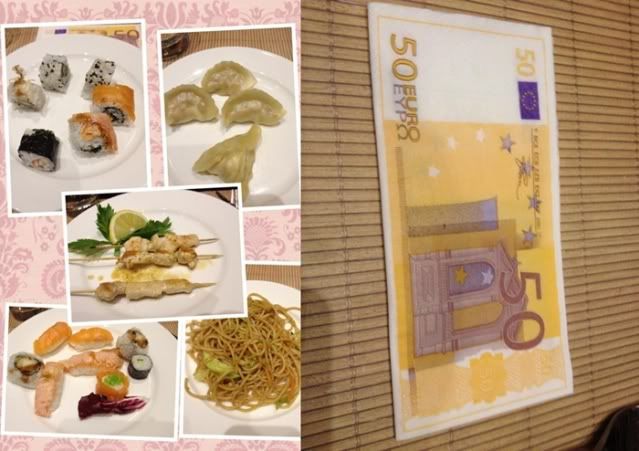 My dinner and the super ugly napkin…I have never seen in my life something like this ahah XD!
And lastly a picture of my Christmas presents! This year I received so many gorgeous things, I was really happy! I also received some ugly things from my kin but I'don't really care about it XD every year it's always the same!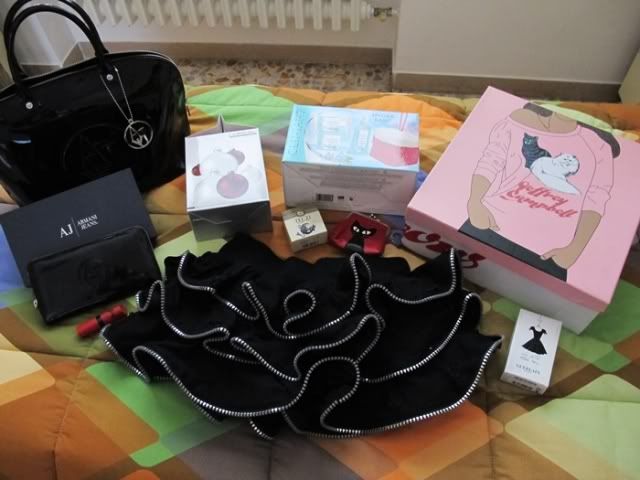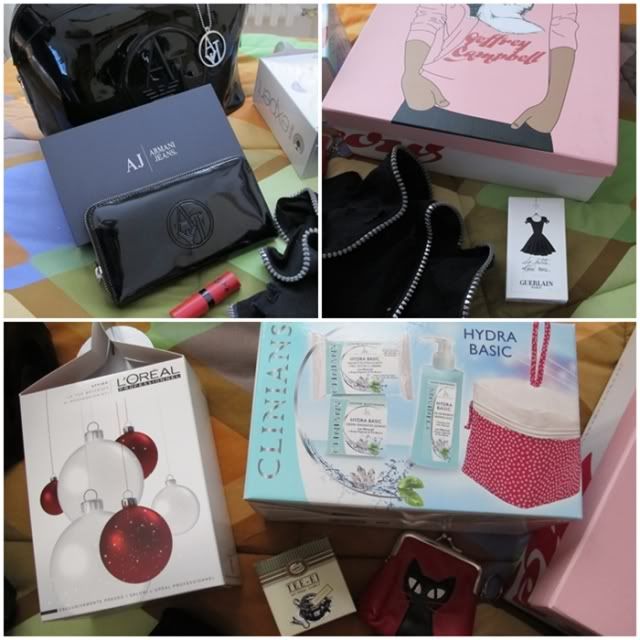 You know the Jeffrey Campbell pair (8th street spike) because I wore them in the previous days ahah, they are the Christmas present from my boyfriend! Her mother also bought for me this Armani jeans bag, I saw this bag a lot in my area but with an ugly tote bag design so when I saw this new model I fell in love, it's really elegant and I really needed a bag like this!

My parents gave me like every year some money, but they bought me other two presents, my mum the "La petite robe noire" perfume by Guerlain ( I LOVED it since the first time I sniffed it in May) and my dad the matching Armani Jeans wallet for my bag, because I really needed a big wallet for so long. The other present (L'oreal set for dyed hair, Clinique face kit, little cat wallet, little tea pot infuser, Rimmel lipstick) were from my kin or other friends, special

mention for the Glavil skirt that it was a present from my lovely friends Chiara and Grazia!