Another sort of summary of these days, I hope this is the last time I make it 'cause it is a bit difficult for me to remember all the things I wanted to talk about ahah. I went to a an opening of a new comics shop with Grazia some days ago, the local is really tiny but special and snug, everyone was really kind! We decided to dress up with a creepy theme so I made a creepy cute outfit mixed with lolita, black x white is always one of my favorite combos!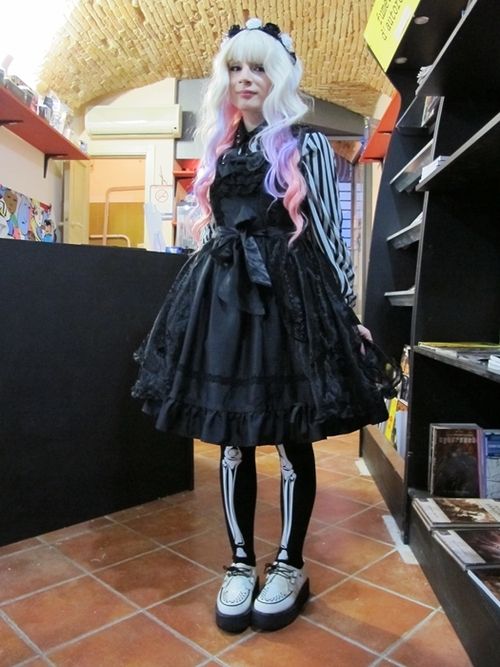 Headband
Lockshop – Blouse Glavil – Dress Btssb – Tights Ebay – Shoes TUK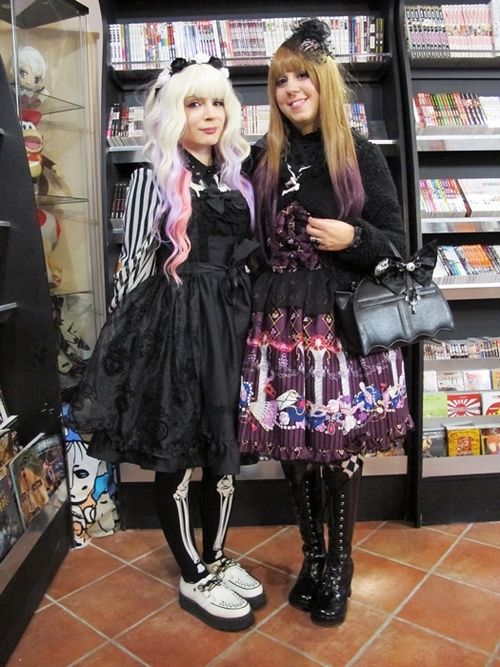 I love Grazia's outfit, the dress is really gorgeous in real and she added a lot of little creepy accessories! The opening went very well but we decided to come back home for dinner 'cause we were tired after all the afternoon there!
The 1th dicember was the international lolita day, unluckily I totally forgot it so I didn't organize in time a meeting with my friends ç_ç I spent it with my boyfriend at home but Grazia had the idea to make a little collage with our pictures to wish a nice lolita day to all, it was a good way to stay together even if we were distant *v*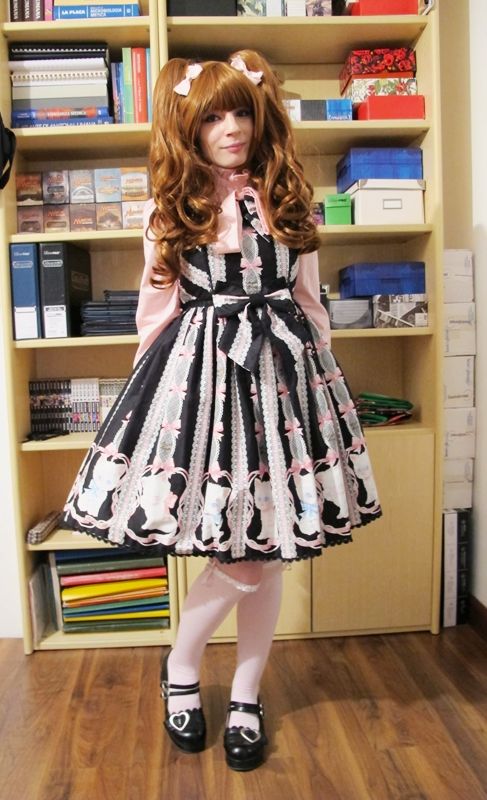 Hair ribbons
h&m - Jsk Angelic Pretty – Blouse Devilinspired – Socks, shoes Btssb
A picture with Arturo, he got out from the Ap print ahah!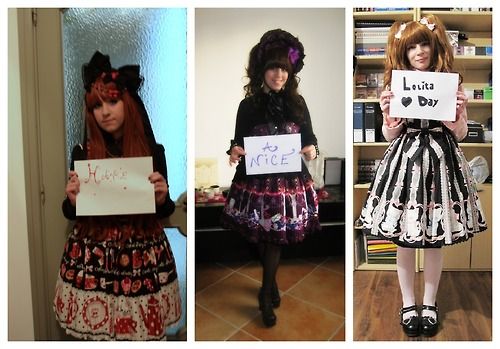 The collage with Chiara and Grazia *v* I hope you like it!
Then…for the last Saturday I had the plane to go to Florence for a little convention but unluckily the snow arrived in Italy and all my plans were destroy T_T! I felt so depressed that my boyfriend decided to take me to Ikea, it opened this August near my university but I hadn't the chance to go to it! It was surely a different Saturday anyway ahah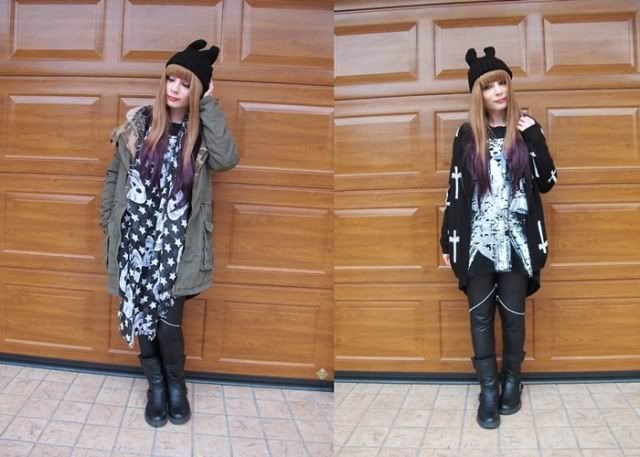 Coat, scarf
Pull & Bear – Hat taobao – T-shirt, necklace Glavil – Cardigan Missguided – Leggings Calzedonia – Boots random store
I bought some sweets (and they were so delicious!) and a new box for a part of my wigs, maybe can I make a post about my collection?

1. Sweets from Ikea! I ate them in only one day…I'm a very bad girl
2. My friends and me did a big Shopping Holics order but I received the wrong lenses pair…someone know how they resolve problems like this? With their super promotion I also received a free lenses pair, but unluckily I don't think the model will suit my dark eyes well XD If I'll have time I'll make the review about them!
This week was really full: on Monday I had an exam (it went so well, I took the maximum grade *_*), Wednesday I went out with my dear friends Grazia and Chiara, they will leave Italy for Japan in the next days and they will come back in January so I know I will miss them so much T.T! We went to our favorite bar, talked a lot, did some shopping and then we went to the usual comic shop!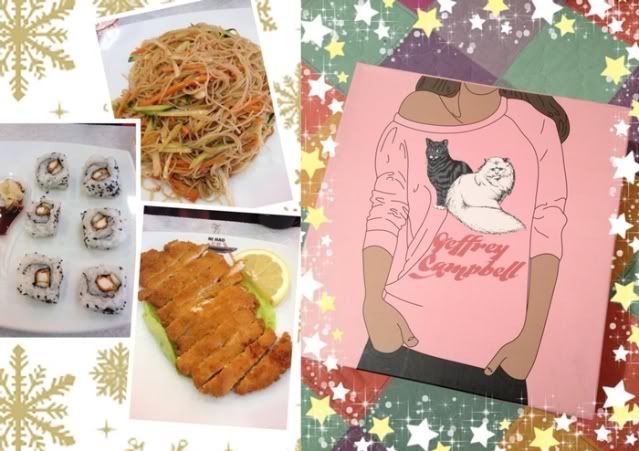 To celebrate my good exam we went out for lunch! I ate a bit too much XD I also received on Tuesday my new Jeffrey Campbell 8th street spike! It was a very big present from my boyfriend T_T he's always TOO kind! Maybe I will able to get all the items of

my Christmas wish list this year ahah XD
My outfit for our little meet: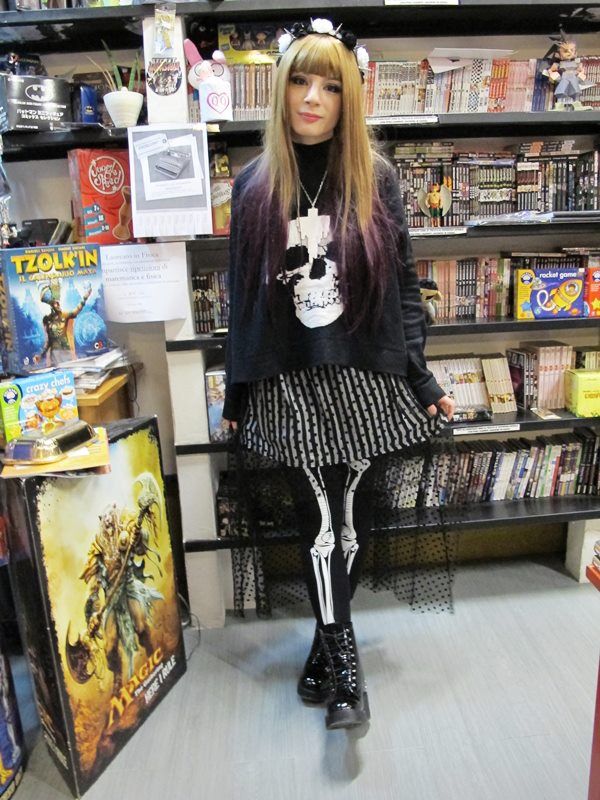 Headband
Lockshop – Sweater Terranova – Skirt Listen Flavor – Tights Ebay – Boots Jeffrey Campbell
Then Thursday I went with my boyfriend and some friends to the cinema to see The Hobbit *_* I'm a Tolkien fan since I was child, so I was so damn happy to see finally a new film dedicated to one of his books! The film was fantastic, I highly recommend you to see it soon!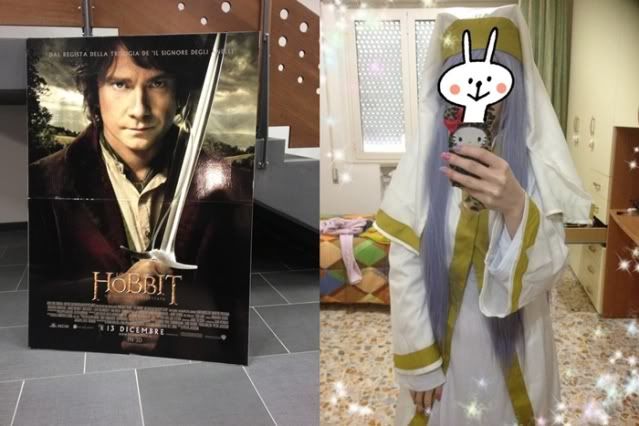 One of my next cosplays is almost ready, I need to fix the bangs on my wig and some details on the dress but I can say it's ready for a convention! In winter there aren't conventions near my area, I'm waiting for the spring to attend a lot of new ones! Someone recognize my pg? It's from one of my favorite series ever!
It's strange but for this weekend I haven't got programs ahah well, I'll see what I can do but I think a cup of hot tea and an anime will be the best choice for this bad weather
!