2012 summary and new year resolutions
It's time to make a big summary post about my 2012! I can say it was a really happy year for me, I reached a lot of goals, I did all my exams (and now I'm really close to my final graduation, yay!), I also went to Japan ( a dream came true) and enjoyed

a lot of meetings with friends! I was a bit tired in the last part of the year after so much study but I can say it was a beautiful year!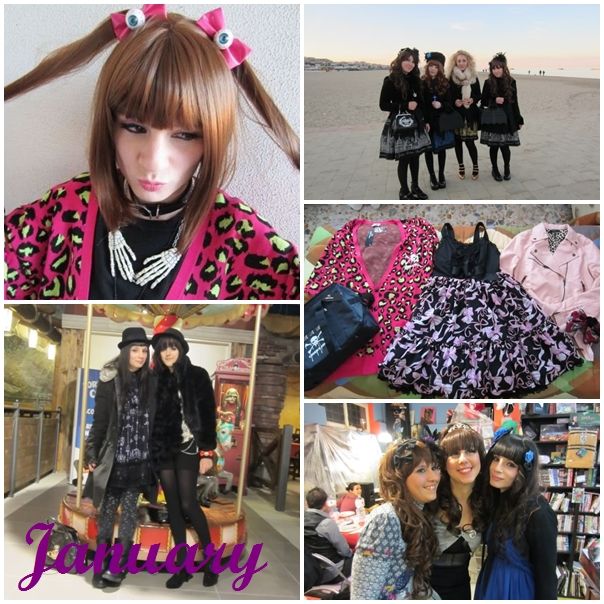 Let's start with January! I'll try to remember as I can with my blog's pictures ahah, I was happy to spend the last day of the year with friends, I also met them a lot in this month, we also did a lovely lolita

twin meeting with our Silent Moon print! I also visited a lot of different malls, with cold weather is the only good warm place to stay eheh! I also received a very big parcel from Japan and I started to change my style (wore something more kera style or pastel goth/creepy cute things)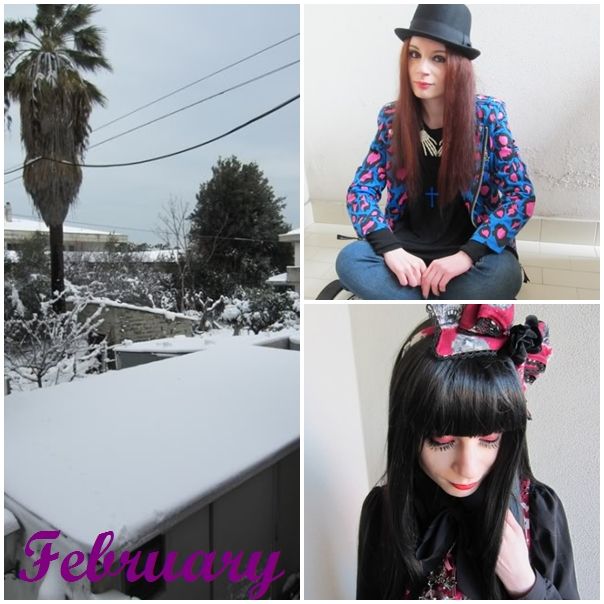 February was a really tiring and boring month, there was a big exam session so I spent most of my time at home studying, I remember I had very few meeting with my friends. There was also a big snowfall so I was recluse for all one week XD and after my exam I fell ill….what a lucky month! The only important thing was I finally changed my hair color after 4 years, from black to red, it was like an odyssey, I bleached them twice and I was forced to cut a lot of hair because they were damaged D:
March was really funny and full of lovely events! Firstly I went to a big convention with my friends, we made a Madoka Magica cosplay group, it was an amazing day and I feel really good after long time without cosplaying! We also organized a big meeting for all the Japan fashion lovers in our cities and everything went very well! I also gave to my boyfriend as present the Wii console and the last Zelda game in limited edition, I can say I spent a lot of time playing at his home ahah!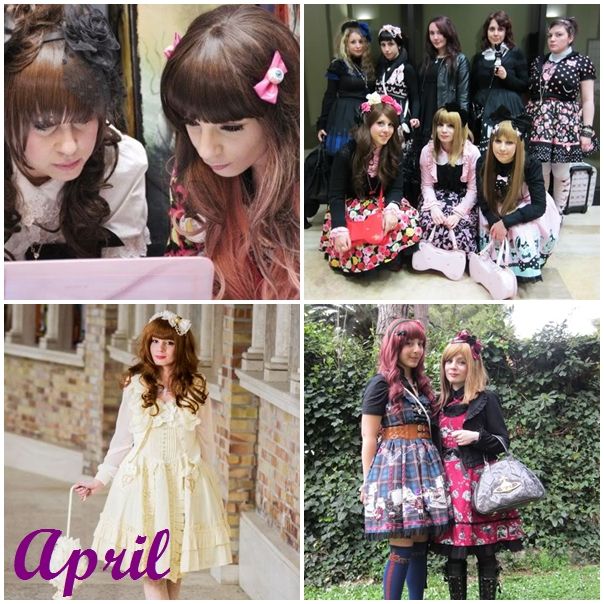 April was another month full of events, I meet my dear friend Chiara after long time (she studies in a different city now), I enjoyed a karaoke party and a lovely lolita meeting in Rome because there was a little doll exposition! I also had a great photoset in classic

lolita
with one of my photographer friends

, I really loved this shoot!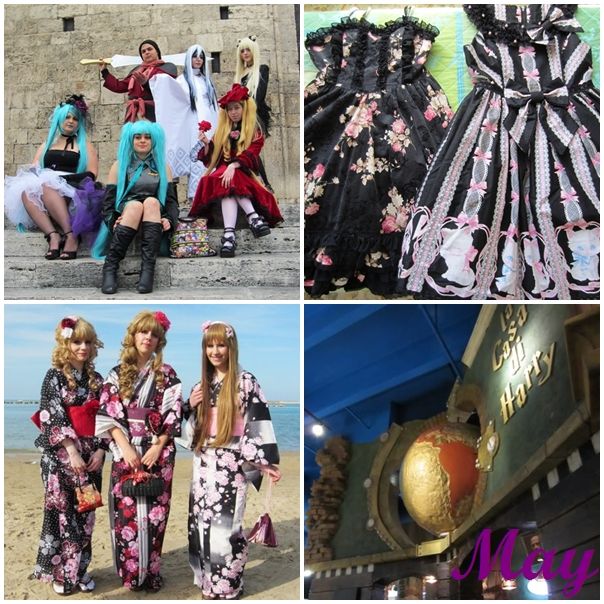 Maybe it sounds repetitive but also May was a month full of events, maybe all months without big university exams are full of lovely things to do ahah! Firstly I enjoy a local convention, it was really tiny but the day was really funny with my friends and I also knew a lot of new cute people! I also went to a new Harry Potter inspired pub, the food was delicious and the location amazing! I went out with my friend in yukata for the first time, I can say I LOVE yukata, they're so beautiful and fresh, perfect for summer! And lastly, I received two new lovely lolita dresses from Angelic Pretty!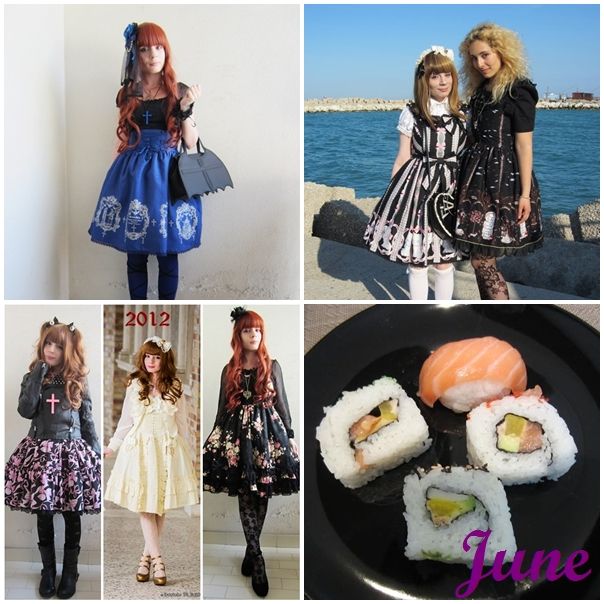 In June there was the most big exams session of the year (until October ARGH), so I started to study again like hell and I couldn't attend lovely events like the past months. I saw again my dear friend Chiara after long time and I also went a lot of times to eat oriental food ahah! I also made a lolita-evolution post to remember how my style is changed during so many years in this fashion!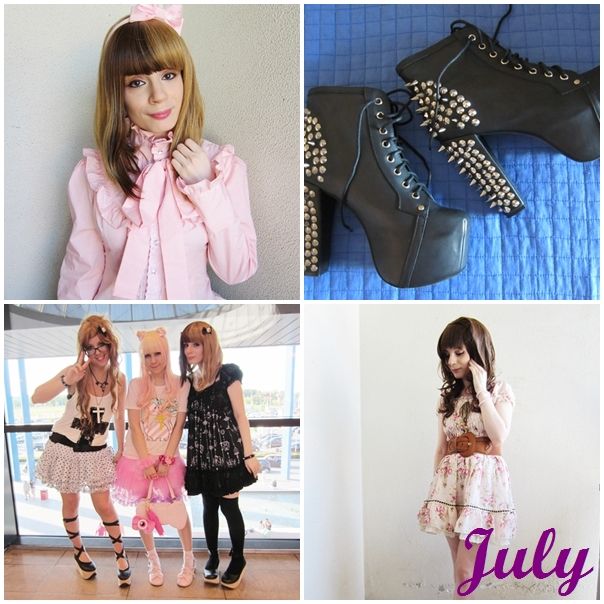 In July I had a little break from my exams until August so I had the chance to go out with my dear friends! I also got my first sponsor yay ( Devilinspired), I was so happy because I didn't think my blog is so interesting enough to have a sponsor T_T! And I also received my first Jeffrey Campbell pair, lita spiked!
August was so damn hot that I felt so desperate ahah but I had the chance for a lot of meetings with my friends! I also finally made another bleaching to my hair and finally they become more light (but always reddish, it looks impossible to totally change the color D:)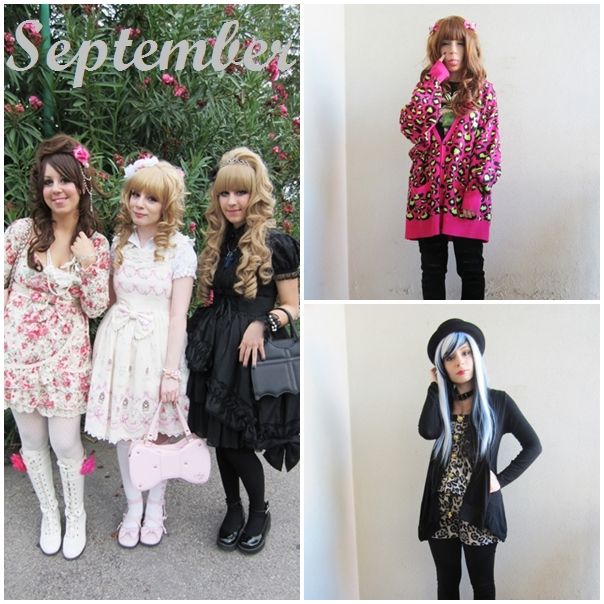 In September there were the last exams until Japan but I was sick the last weekend of the month so I didn't make an exam and I also skipped one of my favorite conventions of the year T_T! I felt so unlucky because I was feeling sick even the day I was leaving for Japan, in my mind I thought "I'am going to die!" XD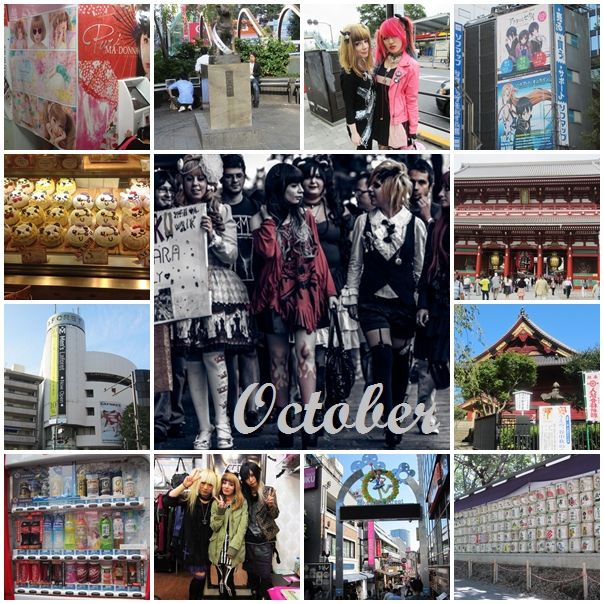 October was obviously the best month of the year, my travel to Tokyo was like a dream! I met so many wonderful people, visited a lot of amazing places and did a shameful amount of shopping! I hope I can visit Tokyo again in the next years! When

I came back there was an inspired Harajuku Fashion walk organized by my friend Grazia and it was so funny! We'll surely organize another one in spring!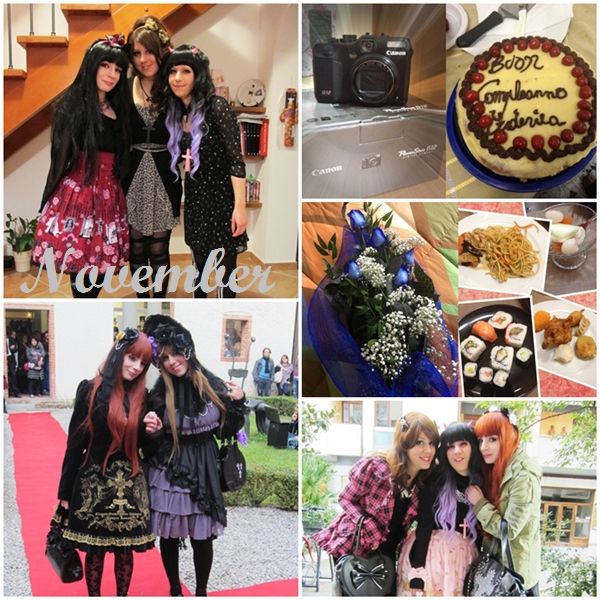 November was full of commitments, firstly there was the Lucca comics the most big and famous convention in Italy, I went 3 days to 4 and I also attended the lolita fashion show! I was so damn happy because I met a lot of new lovely friends! There was the fifth anniversary with my boyfriend and also my birthday! It was surely the month more buisy for me ahah so many things to do! I also started to study again, why is the university so stressful?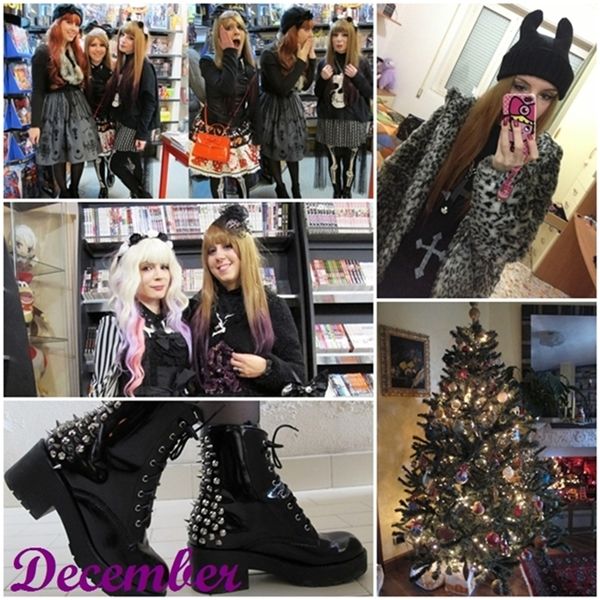 In December I finally made the exam I skipped in September, yay! I saw my dear friends a lot, did a lot of Christmas shopping and I also received a new pair of lovely Jeffrey Campbell pair (8th spike street) which I really love, they're perfect for everyday!
It's all for my summary, I hope I didn't annoy you with such a big post! Now it's the moment for my year resolution:
-
Graduate to my university, I know it will be like the hell but I'll do my best to finish in time all the exams!
-
Become more tonic because I always feel like a pudding XD
-
Make a lot of new outfits
-
Start to wear more classic lolita , I started to feel too old for sweet