It was my forth anniversary with my boyfriend yesterday *happiness*, so I decided to wear his present

for the occasion, Divine Cross in blackxgold (he bought it for me a lot of months ago ahah, we always make presents in advance! The only bad thing is… sometimes I forgot what presents he made for me ahah). Sorry for my bad pics, there wasn't light

in Italy we changed the time and now at

4 p.m. was so dark!!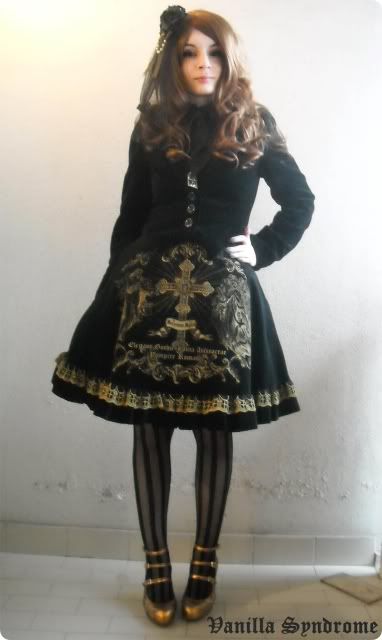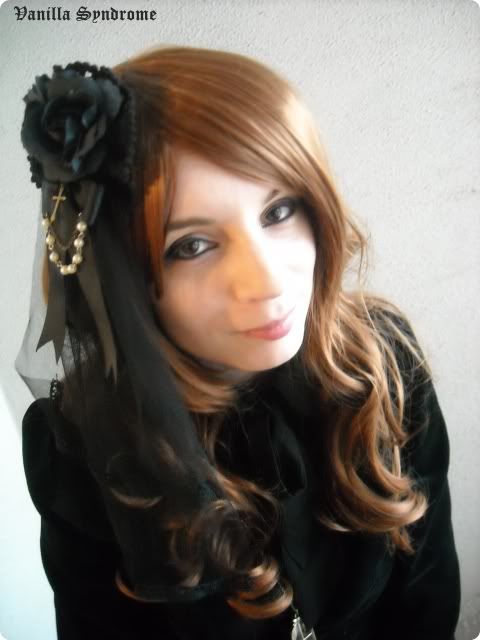 Outfit: Skirt Moi meme Moitie – Jacket Black peace now – Shoes Vivienne Westwood – Headdress Fox Cherry – Necklace Putumayo – Tights taobao
The program was very simple, afternoon at home and for dinner restaurant, I'm not

a party girl, I don't like to go out on Saturday night, I prefer a relaxing evening at home with anime, tv and my cats! We went to a

Venezuelan restaurant in a nearby town, we love chinese and japanese food but this time we wanted to change (also my health is not very good and I prefered to eat meat)!
My dinner was

grilled meat (large image) and I loved them!! Best dinner in a long time! The rest was what my boyfriend ate, I only ate some "arrosticini" (3°image) a local tradition food made with sheep meat, one of the best thing in Italy is absolutely the food! It's a bit bad to say but outside Italy I always ate badly maybe I'm too used to Italian food, but it's always so hard for me! To the end of night… I thought it wasn't a real Venezuelan dinner ahah the only real thing was Empanda ( 2° image)! If you come to Italy you must go to our restaurants,

Italian cuisine is wonderful!
Lastly, I won this beauty on auction yesterday: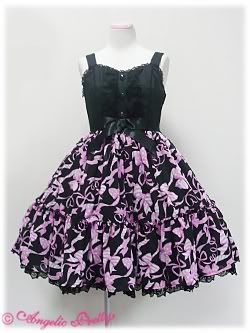 The skirt is all in chiffon, I think it will be really soft! I don't know why but nobody likes this print, I love it 'cause it's sweet but at the same time elegant, I would like to buy some sweet prints of my wishlist in the next months, I'm bit tired of gothic, for one year I bought only MmM and Aatp! I hope to find Vanilla chan for a good price, I think I'll send the shipping request after Christmas holidays so I'll have the time to find something more!