Summer outfits and some daily life
I'm really sorry I didn't post as usual in these days, I was sick and also nothing really interesting happened in the past weeks, but I would like to share my last outfits! Maybe I'm the only one who hates summer not only for the fucking hot weather but 'cause I'm always really busy with my exams, I also worked a little (extra money ….I just spent them, lol) and did a lot of commissions for my family, I hadn't many chances to go out with friends and it's really strange every summer is always the same XD (and the next week I'll start to work to my new cosplay's weapons….I would like days with more than 24 hoursXD).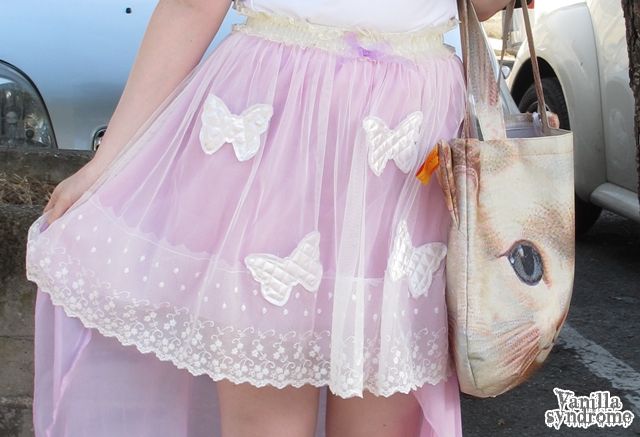 Heaband, bag, shoes, over lace skirt
taobao – Top nike (lol) – Pink skirt Terranova – Chocker Lady Macbeth (etsy) – Necklace h&m
I wore this outfit for a little break with my friends, we went to a nearby city to buy mangas *otaku mode*, it's nothing really special but with 40° I hadn't the courage to make something with more accessories, layers or heavy make - up XD my eyes are also really tired for too much study *sadness*.

I received in my other accounts a lot of questions about my "skirt",

they are two different ones, I only wore the lace one over the pink one!
Yesterday finally we went out all together after a long time, we went to the usual comic shop

but it was closed

and then to our favorite bar... that is was closed too T.T so we went to a nearby bar, the more nearby possible lol, 'cause it was super hot and we absolutely wanted something to drink.
This picture with Chiara was snapped by my boyfriend while we went to the station, we didn't know he took a picture of us XD I found it really cute, we seem like little sisters with the same backpack, colorful hair and blackxwhite outfit *u*.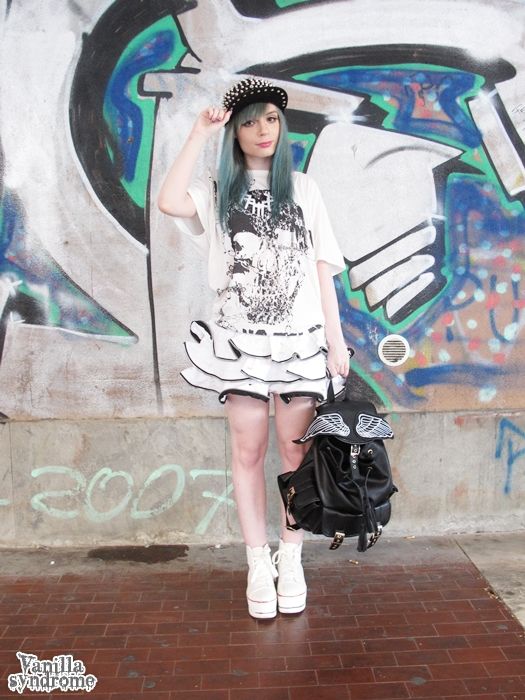 Cap
Ebay – T-shirt, skirt Glavil – Shoes, bag taobao – Necklace Monomania
I know the outfit is really really similar to the one in the previous post, but I enjoy so much wearing white outfits and I'm so in love with my new clothes! Maybe you noticed my hair became green and I also cutted them a bit, now all the split ends are gone and I can't wait to have super long hair again after so much time, I will not bleaching them again so I'm very hopeful!
I will show you in a new haul post with all things I bought during this period asap, now I'm waiting for 7 parcels (mostly very little stuff from ebay) so you need to have a little patience to see all the new things!