Hi sweeties! Sorry for not posting something during the past week, I had a lot to do with my university and I also felt really tired... I'm finally feeling good, I hope I don't get sick again this winter! Sadly snow is coming here in Italy too, I don't want it because weather here is always really hot, I'm not used to cold and I don't know how to dress without seeming a potato sack, I also don't like jeans and pants in general so my usual combo is wool tights + leggings like in this recent outfit, I hope you like it, it's still really simple but I don't know how to look good with so many layers ahahah! I also tried my black lipstick after a long time!
Cardigan
MissGuided – Sweater Listen Flavor – Leggings Terranova – Shoes TUK – Necklace Super Lovers – Chocker Ghost of Harlem – Headband Lockshop
I bought the wig during my Tokyo travel but

didn't wear it because it needed a big restyle 'cause the fringe was really long and the wig really heavy (was around 100 cm long)…when I came back I cut the fringe but it became really thick because the wig has too much hair D: I felt a bit depressed and I decided to not touch it until I have enough time to do a super big restyle. Finally I had some free time during these days so I started to work on it: I cut over 30 cm and now it's enough light to wear it without causing an headache, I also reduced the thickness of the fringe and did the hime cut because I felt the wig a bit too heavy on my face.. I really like it now! The only bad thing is…I don't think this shade of grey suits me well XD. Then…the leggings are a new coming in my closet and they were a lovely gift by my boyfriend!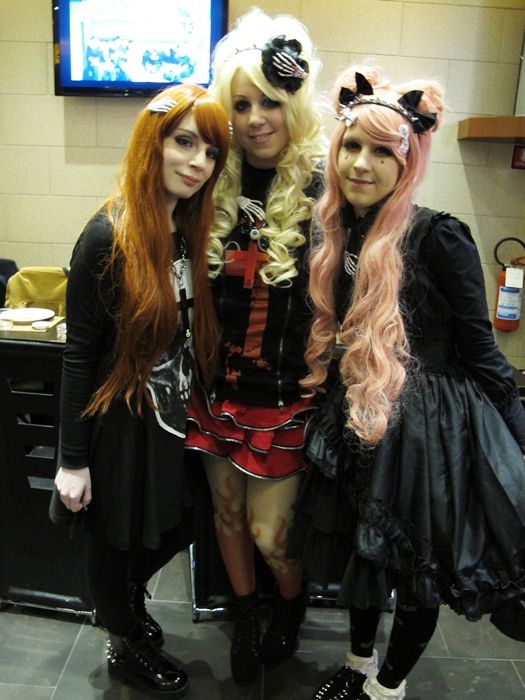 Yesterday I went out for dinner with my lovely friends and a lot of other people to celebrate the chinese new year, here in our region there were a lot of chinese restaurants that organized a party for it so we decided to took the occasion for a different evening (and I was also so fucking happy to go out with them after my 3 weeks sick).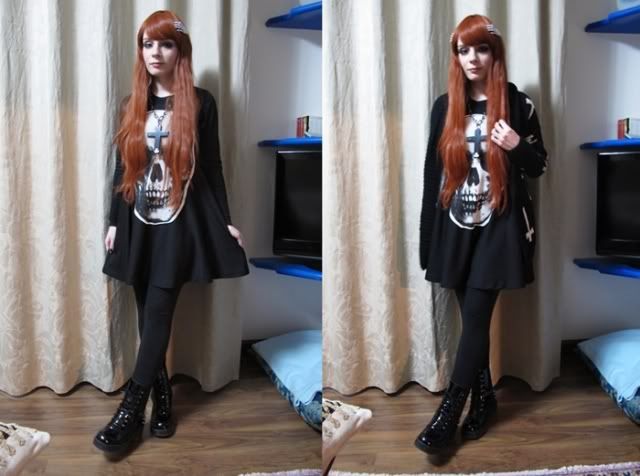 Cardigan
Missguided

- Dress Glad News – Necklace Glavil – Boots Jeffrey Campbell
I don't know if my outfit is rokku gyaru with some creepy details or a simple goshikku gyaru XD ahah! It's REALLY simple because I felt so damn cold and I needed to wear 1000 layers ahah I hope the weather will become more warm in the next days, I would like to dress up properly without dying x.x
Unluckily I wasn't able to eat a lot as usual after my weeks of sickness ahahah XD the only good thing is I lost some weight! The food was delicious anyway!
The evening was so funny, I need more events like this, all night there was the karaoke (but I didn't sing because….I don't know the words of Italian songs, both new and old... lol) and the staff was really kind! We went away a bit earlier then our other friends because my boyfriend had headache for the unceasing karaoke near our table, when we arrived to our town we decided to take a hot tea with my friend Sarah and her boyfriend, it was delicious and we really needed something to help us to digest XD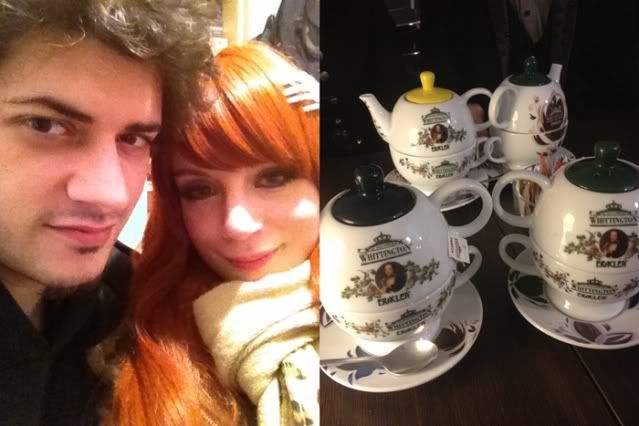 Maybe is also the first time I post a picture of my boyfriend, sometimes I received critics about the fact I don't share my private life here, but oh well it's a blog

about outfits and style so I feel it's a bit unnecessary, but in the future I will try to share more about myself too!