Yesterday I went to the mall with Sarah, there was the last sales day so we took the chance to find cute things for very cheap prices! It was the first time I wore an outfit without black (ahah), I choose the last things I bought on sales to create an outfit in blue with a gold and leopard touch, do you believe me if I say this is my first pair of jeans in my life XD? IT IS! I bought them with my boyfriend some days ago (and I bought other cute things)
Sarah was so cool with her new sweater! I want it too :D I hope to buy it in one of my next taobao orders!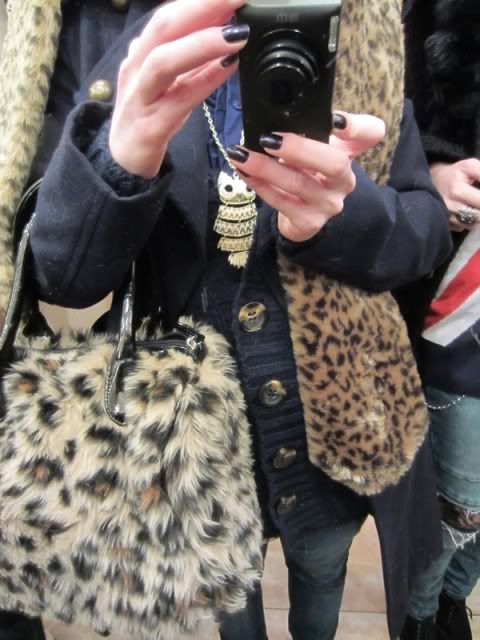 I love my new howl necklace, it's so big and cute!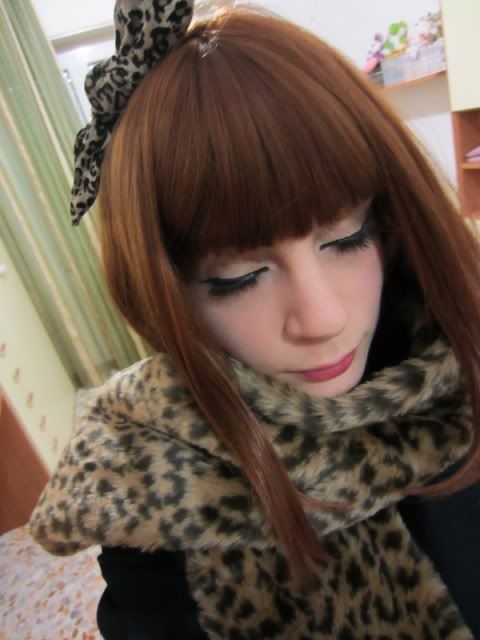 Showing my make up is to much to ask to my camera? D: It was very light with two tone of gold and rose lipstick! Here there are what I bought yesterday:
Two new tights from Tally Wejil for very cheap prices, I also took this cute make up pochette with a ribbon but it's a new coming from the next collection! I also bought a cute usamimi in black with white pois for only 1 euro from Terranova! The next picture is of my purchases of some days ago ( I went to a different mall with my boyfriend!):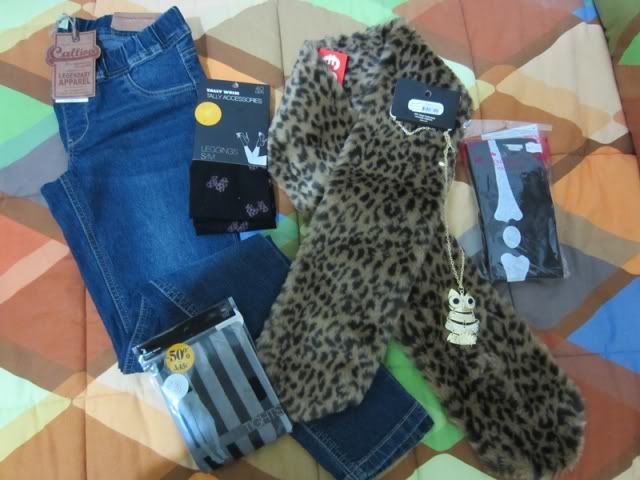 Jeans are

from the new Calliope collection, they weren't on sale ( and also they weren't cheap XD) but they fit me very well and I decided to take them, it's so strange 'cause I always feel too fatty to wear jeans D: I think they are good only on thin people (maybe is a reject 'cause in Italy ALL the people wear them XD). Ribbons leggings and stripe tights are from Tally Wejil, and also the howl necklace you see in the second picture :D it was a promotion, you could get 3 things and pay only 2, so convenient! I also found the skeleton tights for only 1,50 euro at Accessorize °_° I feel so lucky 'cause I love them and I was thinking to buy them on ebay! The leopard scarves is from h&m, my boyfriend bought it for me

♥

he is always so kind!
That's all for this post, but finally I finished the post for the egl wardrobe theme! Tomorrow I'll make it :D I also made the new daily Lolita post, I'll share it in the next days! I feel very tired in these days, my exam is soon x.x