Outfit snap #7 + big new!
Finally I finished my exams *hurrà!*, now I'm on holiday XD next exams will be on February!
I promise a lot of new outfits ❤
This time I would like to share yesterday's outfit, it's very simple, sorry about that! I hope this summer will finish early!
In the pic there is a little intruder eheh one of my cats :)! He thinks "I'm coordinate with her outfit so I want to be in the pic!" ahahah *joke moment*
Make up pic, two different shade of grey with h&m lashes!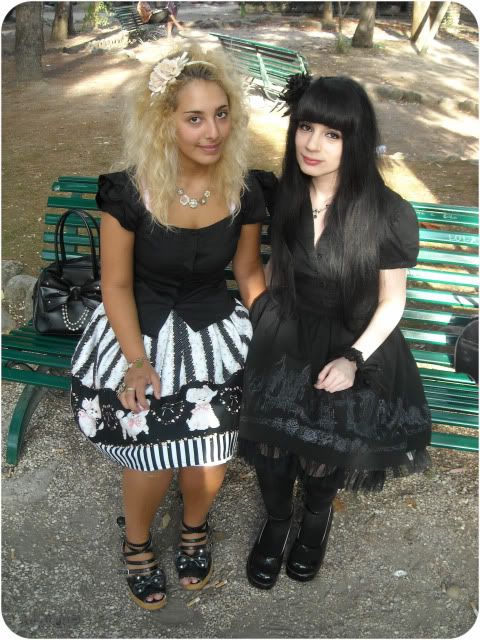 With my friend Chiara, she is so
tanned, I look like a ghost near her XD
And finally...the big lolita new!
"Waratte Koraete" is an entertainment show by Nippon Television Network, one of the most important Tv stations , and can boast a 15% of share in Japan.
Nippon Television has opened a base in Rome in March, with the aim to braodcast cultural, artistic, gastronomic, pop and particular aspects that can't be necessarly seen during a single journey in Italy.
The network is organizing a special event, that will be inserted inside a three hours special that will be broadcasted septemper 23th. The event consists in a contest between fans of many aspects of Japan, culture, collecting, manga, arts and more. The contest will thake place in the presence of two famous japanese actors that will act as judges, and will choose the performance or hobby they like tho most. We will take part in the contest with a lolita parade!
I'm really excited by this event, and it seems so strange we will go on air in Japan XD!
The program will be filmed the 19 september, it will be a hard and challenging day for all of us (filming will last all day), we all will do our best :D!