It's time for a new haul post XD I bought some new things and thanks to some items I sold I was able to buy something new for autumn/winter! Let's start with the oldest purchases I didn't show you (but you saw most of them in my last outfits!)
Printed crosses shorts and T-shirt from Tally Wejil, both of them weren't on sale (lol) but the prices were really reasonable so I took them, and I can say luckily 'cause everything went sold out in like 2 weeks XD!
Crosses necklace from Bershka, after I bought it I checked some websites and I discovered it's really similar to the one sold by Fig&Viper XD lol! I also bought on ebay a cute clear clutch for a super cheap price, I wanted something like this for so long!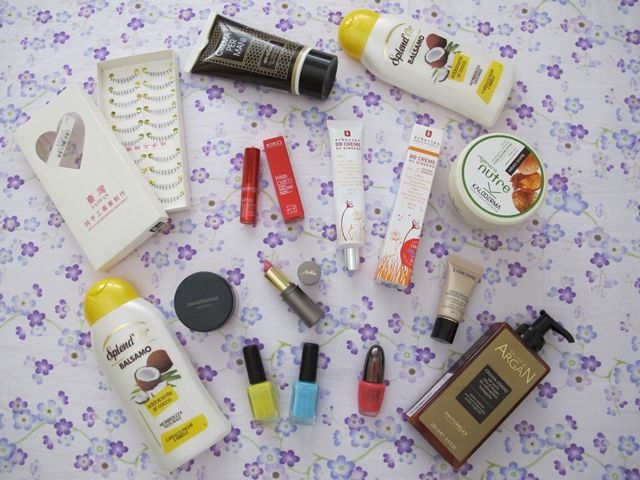 Some make- up and hair/body care items (ok… lots of items)! I finished a lot of products in the past months so it was the time to make some stock XD I don't like to be without products so I always take more than I need. They're mostly gifts, unfortunately

I haven't enough money to afford so many things XD. Of course if you would like to know something about the products or my hair/body care routine I would be really glad to answer you!
I also made a big order from Lush with my friend Sarah to avoid the shipping fee! I took my favorites hair masks and also a shampoo and a conditioner (just to try it)! Everything is for dry hair and they helped a lot *u* my hair now are super soft!
And then the parcel I was waiting the most! I bought some few new items from Glavil by Tutuha, the long t-shirt was a lovely present from my boyfriend *u* it's super cozy I wore it a lot in this period! The cardigan and the t-shirt are sold out in this moment, the skirt is always available 'cause it's the must have of the brand so you'll have a lot of chance to get it! I really hope there will be few items I like in the next season

XD *forever poor*
Then I also made my first order from Boy London *_* I'm so happy I was finally able to order one of their t-shirts and the white cap (ordered from a different website, lol)! I know internet is full of replicas, but when I can afford the original one I always prefer to buy it, especially if I LOVE an item (like this t-shirt).
The only bad thing is they have the worst payment method and service ever, but if you would like to know something about it I can make a review!

I can say I realized the 75% of my autumn wish list and I'm super happy about it!
I also took some things in local stores, the floral sheer jacket is from Bershka, it's really nice and good for a little change for my autumnal outfits. The black skirt is from Tally Wejil, it's really simple but

I needed something like this to coordinate with almost everything!
My mum also bought for me this lovely cardigan with spikes over the shoulders from Terranova! I'll wear it a lot during winter, I'm very sensitive to cold XD
My friend Flavia gave me as present this lovely skirt, she bought it during her German travel! It's so beautiful and super soft!
I also bought this lovely sweater from Listen Flavor from my friend Grazia, I'm really happy 'cause I wanted it since my Tokyo travel but I forgot to buy it when I was there XD.
The final thing is not a purchase, but a big present my boyfriend made me, I drooled about this Black Moral bag for like 6 months ,

I really needed a new black bag 'cause the two I use daily started to look a bit used and I don't want to ruin them more.

I'm super happy and I don't know how I can thanks my boyfriend for this wonderful present T_T.