I bought some items in these days, I don't know why but I had a shopping desire ahah (maybe because I can't find on auction something in my wish list for a good price):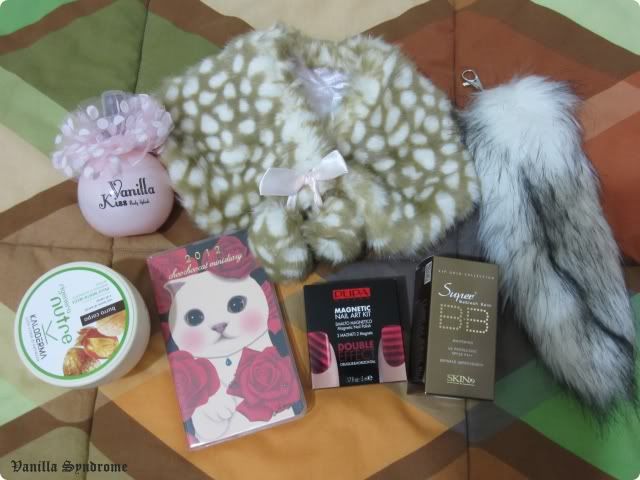 -Vanilla Kiss body splash (h&m), it's a vanilla body perfume, it smells so good!
- Fake fur collar (h&m), it's so cute, how couldn't I buy it? I thought some outfits with it, I hope to make pictures asap!
- Fake fox tail (h&m), I love it and I hope to buy a black one when it's possible! I found some good auctions on ebay, it's really hard to find a good one in my local store!
- Kaloderma cream, the best butter/cream for dry skin! I absolutely recommend it!
- Jetoy schedule book 2012, I love the products from this brand (you know I love cats), there are a lot of cute things! I'll would like to buy the make up pochette and the passport case in the future!
- Pupa magnetic nail art kit! I'm in love with it *_* the effect is really gorgeous and the kit is simple to use! I would like to buy it in blue and green too
- BB cream Super beblesh balm from SKIN79, it's perfect for my skin tone, finally I found the perfect foundation for my light and dry skin!